***Bioflex 38 Contacts***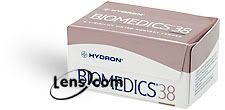 Best Price Guarantee (Up to 70% Off Retail)


Multiple Shipping Options (Next Day, 2nd Day, International)


Selling Contact Lenses Since 1995

Product Description
Bioflex 38 are weekly disposable soft contact lenses. These store brand lenses are identical to Biomedics 38 and UltraFlex 38 and all orders will be shipped as either Biomedics 38 or UltraFlex 38.These lenses are tinted for ease of handling and will not change the color of your eye. The tint is simply designed to facilitate locating the contact lenses in solution.

Review
" This is an amazing lens if you suffer from dry eye. I work a night shift at a hospital and with my other lenses my eyes used to get so dry and red that my patients use to think I was really tiered and often questioned everything I was doing to make sure I was not making a mistake. Needless to say I started to wear glasses because I did not want to risk looking unprofessional. Finally my doctor gave me these amazing Biomedics 38 and I no longer have problems with dry eyes. My vision is perfect and my eyes look fresh and healthy. "