***SeeQuence II (SofLens 38) Contacts***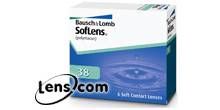 Best Price Guarantee (Up to 70% Off Retail)


Multiple Shipping Options (Next Day, 2nd Day, International)


Selling Contact Lenses Since 1995

Product Description
Seequence II (SofLens 38) uses an ultra thin design and time tested materials to provide crisp, clear vision and comfort.These lenses are tinted for ease of handling and will not change the color of you eye. The tint is simply designed to facilitate locating the contact lenses in solution.Note - SofLens 38 is the new name for the SeeQuence II Lens. The two lenses are identical outside of the new name and packaging.

Review
" I have worn the SeeQuence II contact lenses every since my doctor gave me a trial pair of them about 4 years ago. Every lens that I get always gives me perfect vision and feels great in my eyes. Whenever a new lens comes out or my doctor has some other trial pairs I always try them out and nothing has been able to compare so I don't switch! "