***Biomedics EP (Proclear EP) Contacts***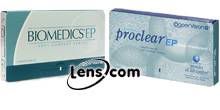 Best Price Guarantee (Up to 70% Off Retail)


Multiple Shipping Options (Next Day, 2nd Day, International)


Selling Contact Lenses Since 1995

Product Description
The Biomedics EP (Proclear EP) contact lens from Coopervision is the only contact lens designed specifically for those who are just beginning to have difficulty reading small type and seeing objects up close.Thanks to patented PC Technology, which creates a unique material containing molecules of phosphorylcholine(PC),these molecules attract and surround themselves with water, keeping Biomedics EP lenses moist and comfortable.

Review
" I never knew that they had contact lenses like the Biomedics EP! I just figured that when my eyesight started going bad that I would have to get reading glasses like all of my friends. It is amazing how smart these lenses are. My vision is perfect at all distances and I am never even aware that I am wearing contact lenses. I love the fact that I don't need wear readers when out with friends- I definatly look the youngest from the group. "