***SofLens Daily Disposable 90PK Contacts***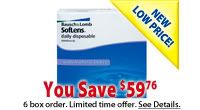 Best Price Guarantee (Up to 70% Off Retail)


Multiple Shipping Options (Next Day, 2nd Day, International)


Selling Contact Lenses Since 1995

Product Description
Bausch & Lomb SofLens Daily disposable contact lenses with aspheric optics have an enhanced optical design that creates crisp, clear vision - especially in low light conditions. Bausch & Lomb SofLens daily disposable contact lenses are the only daily disposable contact lenses that reduce spherical aberration. Plus, offer outstanding all-day comfort, and easy handling. Start each day with a fresh pair; no daily cleaning, storage, or care required.SofLens Daily Disposable is the recommended replacement lens for Soflens One Day 90 pack These lenses are tinted for ease of handling and will not change the color of your eye. The tint is simply designed to facilitate locating the contact lenses in solution.

Review
" There's not a lens more convenient out there than these. I have tried all of the dailies I could get my hands on and the SofLens Daily Disposables are the best disposable daily contact lenses on the market. I have tried several other ones in the past but other brands definitely sacrifice quality for the daily wear. This lens is incredible it gives the same great vision as my monthly lenses did. It is super comfortable and I lover that I can just throw it out at the end of the day. "