***Preference Toric DW Contacts***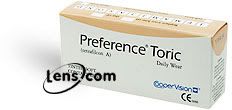 Best Price Guarantee (Up to 70% Off Retail)


Multiple Shipping Options (Next Day, 2nd Day, International)


Selling Contact Lenses Since 1995

Product Description
Preference Toric is a precision Toric lens designed to resist deposit build up while offering superior clarity to patients suffering from Astigmatism.These lenses are tinted for ease of handling and will not change the color of your eye. The tint is simply designed to facilitate locating the contact lenses in solution.

Review
" I would recommend the Preference Toric DW contact lenses to anyone who is looking for a comfortable contact lens for astigmatism. I wear these lenses for at least 13 hours everyday. With other Toric lenses I tried I would always have to have my glasses with me just in case my contacts became too uncomfortable. I almost never have to wear my glasses because these contacts are so comfortable. "