***Frequency 55 Aspheric Contacts***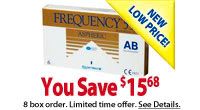 Best Price Guarantee (Up to 70% Off Retail)


Multiple Shipping Options (Next Day, 2nd Day, International)


Selling Contact Lenses Since 1995

Product Description
Frequency 55 Aspheric uses a unique lens design to offer a easy to care for lens with exceptional comfort and clarity.These lenses are tinted for ease of handling and will not change the color of your eye. The tint is simply designed to facilitate locating the contact lenses in solution.

Review
" I think that Cooper Vision Frequency 55 Aspheric contact lenses are OK. They have never fallen out. I see with them better then with glasses. They are comfortable, you don't even feel them. This is my first lenses and I've been wearing them almost a year and I always order my Frequency 55 Aspheric contacts from this web site. Thank You for the lowest price and great service. "