***Dailies AquaComfort Plus 90PK Contacts***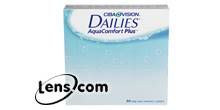 Best Price Guarantee (Up to 70% Off Retail)


Multiple Shipping Options (Next Day, 2nd Day, International)


Selling Contact Lenses Since 1995

Product Description
Dailies AquaComfort Plus are the world's first contact lenses with Triple Action Moisture. Moisturizing agents are released over time, providing sustained comfort throughout the day. So your eyes stay refreshed and moisturized, all day long.

Review
" I was given a trial pack of the ciba dailies aquacomfort plus and have to agree. From the moment they were put on my eyes I have not been aware of them at all. They really feel like I am wearing no lens at all, only that I can see! I have NOT tried the regular focus dailies but I have tried other brands of daily disposable lenses and the two week disposable kinds also and there are heads and tails above the rest. No more solutions and protein removers, they are reasonably priced certainly less than the two week kind where you get 6 in a pack, so loosing one isn't that painful either! They are an all around winner in my opinion. "