***Biomedics 55 Premier Contacts***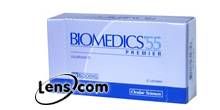 Best Price Guarantee (Up to 70% Off Retail)


Multiple Shipping Options (Next Day, 2nd Day, International)


Selling Contact Lenses Since 1995

Product Description
Biomedics 55 Premier is Ocular Sciences new aspheric version of the popular Biomedics 55 lens.These lenses are also sold under a number of store brands (including Ultraflex 55) specific to eye doctors and optical chains. All orders will be shipped as either Biomedics 55 Premier or Ultraflex 55. Note: The Ultraflex brand does not state "Premier" on the box, however, it does have Aspheric printed on the individual foil cover for each lens.

Review
" The biomedics premier contacts are the most comfortable contacts I have ever worn. I can wear them all day and all night long and they feel awesome the entire time. I no I am not really supposed sleep with these my eyes are healthy and contacts feel so I don't see the problem. The biomedics 55 premier contact lenses also correct my vision as well as my glasses do, and that is a lot to say for a contact lens. "