***Biofinity Toric Contacts***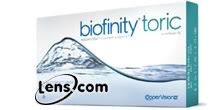 Best Price Guarantee (Up to 70% Off Retail)


Multiple Shipping Options (Next Day, 2nd Day, International)


Selling Contact Lenses Since 1995

Product Description
Combining perfect balance of water and exceptionally high levels of oxygen, Biofinity Toric feels almost as natural as wearing no lenses at all.

Review
" I always get a trail pair for new lenses when they come out and they never seem to live up to the hype. When I brought the Coopervision Biofinty Toric contact lenses home from the doctor I wasn't expecting much but I was pleasantly surprised. They were very comfortable I couldn't even tell that they were in my eyes. The first night I had them I fell asleep watching TV, and when I woke I still had great vision and my eyes did not even feel dry!!! "