***Preference Standard (Blue Box) Contacts***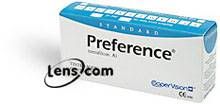 Best Price Guarantee (Up to 70% Off Retail)


Multiple Shipping Options (Next Day, 2nd Day, International)


Selling Contact Lenses Since 1995

Product Description
Preference Standard is a planned replacement contact lens designed for optimum eye health and deposit resistance.These lenses are tinted for ease of handling and will not change the color of your eye. The tint is simply designed to facilitate locating the contact lenses in solution.

Review
" The Preference Standard contact lenses were the first contact lenses that I ever wore and I have been wearing them ever since. I have never had any reason to switch to another contact lens. I have tried some trial pairs that my doc has hooked me up with but none of them are good enough to switch to. I guess I just got lucky right from the get go. "