***FreshLook One-Day (Focus Dailies SoftColors) Contacts***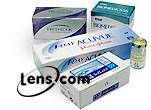 Best Price Guarantee (Up to 70% Off Retail)


Multiple Shipping Options (Next Day, 2nd Day, International)


Selling Contact Lenses Since 1995

Product Description
FreshLook One-Day utilizes a unique 3-in-1 color technology to mimic the natural depth of beautiful eyes. No new fit required for current Focus Dailies patients.

Review
" FreshLook One-Day feel and look great! There are no worries whatsoever. You feel comfortable with them on while knowing you look great at the same time. All my friends compliment me whenever they see my blended hazelnut eyes. I love them! "