***Expressions Colors Contacts***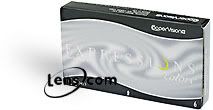 Best Price Guarantee (Up to 70% Off Retail)


Multiple Shipping Options (Next Day, 2nd Day, International)


Selling Contact Lenses Since 1995

Product Description
Expressions contact lenses offer an array of natural colors in a lens that is both comfortable and easy to handle.

Review
" Really great for darker eyes. I tried the hazel and blue. And it made a huge dramatic change. Looks natural from away, and Expressions Colors are great for the price. "