***ClearSight 1 Day Toric Contacts***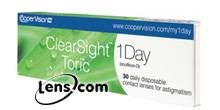 Best Price Guarantee (Up to 70% Off Retail)


Multiple Shipping Options (Next Day, 2nd Day, International)


Selling Contact Lenses Since 1995

Product Description
ClearSight 1 Day Toric daily disposable contact lenses offer you the perfect combination of comfort, convenience, and great vision. It all starts with a one-of-a-kind, incredibly stable lens design that lets you enjoy a more comfortable lens-wearing experience. Since you're wearing a new pair of ClearSight 1 Day Toric lenses every time you put them on, you don't have cleaning and storage hassles to deal with. And there are no bulky, expensive solutions to buy, store, or carry around.These lenses are tinted for ease of handling and will not change the color of your eye. The tint is simply designed to facilitate locating the contact lenses in solution.

Review
" I never thought a daily toric lens would be so great until I tried these. I was a bit skeptical at first, I thought because it was a daily it would not be as good of a quality lens as a monthly, but I was wrong. My vision is so crisp and clear with these just as it was with my monthly lenses. These are much more comfortable though and I love the fact that I can just throw them out and wear a fresh pair everyday. "