***Biomedics 55 (UltraFlex 55) Contacts***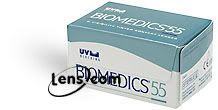 Best Price Guarantee (Up to 70% Off Retail)


Multiple Shipping Options (Next Day, 2nd Day, International)


Selling Contact Lenses Since 1995

Product Description
Biomedics 55 are weekly disposable soft contact lenses. These lenses are also sold under a number of store brands (including Ultraflex 55) specific to eye doctors and optical chains. All orders will be shipped as either Biomedics 55 or Ultraflex 55.These lenses are tinted for ease of handling and will not change the color of your eye. The tint is simply designed to facilitate locating the contact lenses in solution.

Review
" Biomedics55 Contacts Were The Best Contacts I Ever Had I Will Never Go Back To N E Of The Others I Had. You Cant Even Feel These U Dont Even Know They Are There I Tried So Many I Almost Gave Up Then I Found Biomedics And Im Happy With My Chose Thanx Lens.Com For Giving Me Good Lens And For Being So Affordable And Covienant! "