***Precision UV Contacts***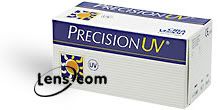 Best Price Guarantee (Up to 70% Off Retail)


Multiple Shipping Options (Next Day, 2nd Day, International)


Selling Contact Lenses Since 1995

Product Description
Precision UV contact lenses combine a convenient and comfortable design with a UV protection that prevents 90% of harmful UV rays. These lenses protects your eyes without sacrificing comfort.These lenses are tinted for ease of handling and will not change the color of your eye. The tint is simply designed to facilitate locating the contact lenses in solution.

Review
" UV protection for my eyes is very important to me because I spend a lot of time working in outdoor conditions. I don't really like wearing sunglasses, plus its not always sunny where I live so UV contacts are perfect. I've tried a lot of the contact lenses that have UV protection and the Precision UV contact lenses were by far the most comfortable. I love that I can get the UV protection that I want and I don't have to sacrifice any comfort whatsoever. "