***FreshLook Dimensions Contacts***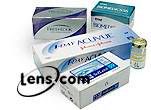 Best Price Guarantee (Up to 70% Off Retail)


Multiple Shipping Options (Next Day, 2nd Day, International)


Selling Contact Lenses Since 1995

Product Description
FreshLook Dimensions are a new generation of enhancing color contact lenses which combine a charcoal starburst pattern with FreshLook colors to make eyes appear bigger and brighter.

Review
" I have never seen any other colors on a contact lens like the ones that the Freshlook Dimensions contact lenses have. These colors are so striking and beautiful it is amazing. These color contacts are also surprisingly comfortable. I can keep these lenses in my eyes all day long and they feel hydrated and great even at the end of the day. "