***Encore Toric (Vertex Toric) Contacts***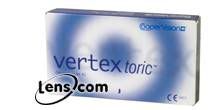 Best Price Guarantee (Up to 70% Off Retail)


Multiple Shipping Options (Next Day, 2nd Day, International)


Selling Contact Lenses Since 1995

Product Description
Encore Toric are disposable contact lenses whose UltraSync technology offers a uniquely comfortable fit and easy maintenance.These lenses are tinted for ease of handling and will not change the color of your eye. The tint is simply designed to facilitate locating the contact lenses in solution.

Review
" Encore Toric lenses are the most comfortable contact lenses for astigmatism. These weekly disposables feel great in my eye and they also give me the sight I need. I always have crisp and clear vision with the vertex toric contact lenses. I love that I can get both great sight and comfort with this lens so I am going to continue to choose this contact lens. "