***Avaira Contacts***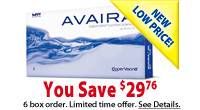 Best Price Guarantee (Up to 70% Off Retail)


Multiple Shipping Options (Next Day, 2nd Day, International)


Selling Contact Lenses Since 1995

Product Description
Avaira contact lenses are the revolutionary weekly disposable contact lenses produced by CooperVision. These lenses use silicon hydrogel and the Aquaform technology to provide you with a comfortable wearing experience without surface treatments or wetting agents.

Review
" I have very dry eyes and have had trouble wearing any other brand of contacts for more than a couple hours. The Avaira contacts are great. I can wear them for 15 hours easily and I don't even know they are in most of the time. This is the first time in many years that I have been able to wear contacts for more than 5 hours without having to take them out and clean them and put them back in. I love these contacts and highly recommend them!!! "