***FreshLook Colors Contacts***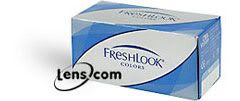 Best Price Guarantee (Up to 70% Off Retail)


Multiple Shipping Options (Next Day, 2nd Day, International)


Selling Contact Lenses Since 1995

Product Description
FreshLook Colors Opaque are disposable soft contact lenses that promote comfort and convenience in an array of affordable colors. These contact lenses contain an inside-out "FL" indicator to help ensure proper application/insertion.

Review
" I really love the FreshLook Blue Contacts! I have hazel colored eyes and these contacts make me look like I was born with blue ones. They make the color look natural not fake. I have had nice compliments on my eyes. No one has ever asked if I was wearing contacts or not. "