***Focus Night & Day (Air Optix Night & Day Aqua) Contacts***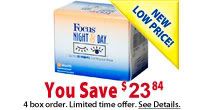 Best Price Guarantee (Up to 70% Off Retail)


Multiple Shipping Options (Next Day, 2nd Day, International)


Selling Contact Lenses Since 1995

Product Description
Focus Night & Day is a revolutionary lens that offers up to thirty days of continuous, natural vision eliminating the need for daily removal and cleaning.

Review
" I've been considering Lasik surgery for the past year or so but then I got a free sample of the Focus Night and Day contact lens from my optometrist. These contacts are GREAT! It feels so good to be able to wake up in the morning and be able to see! The contacts are a little dry for me first thing in the morning (for only a minute or two) but then I'm good to go for the rest of the day. As long as these contacts keep working for me I'll NEVER try anything else...unless they come up with a 60 day contact lol. "