***Encore Sphere (Vertex Sphere) Contacts***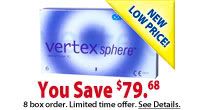 Best Price Guarantee (Up to 70% Off Retail)


Multiple Shipping Options (Next Day, 2nd Day, International)


Selling Contact Lenses Since 1995

Product Description
Encore Sphere are disposable contact lenses whose UltraSync technology offers a uniquely comfortable fit and easy maintenance.These lenses are tinted for ease of handling and will not change the color of your eye. The tint is simply designed to facilitate locating the contact lenses in solution.

Review
" The Encore Sphere contact lenses are great. They always give me great vision and the lenses are super comfortable. The lenses are high quality as well. These contacts always last at least 2 weeks. I have even worn a couple of the lenses for a month straight and they stayed comfortable for the entire time. You know you have a good contact lens when that happens! "