***Acuvue Oasys for Presbyopia Contacts***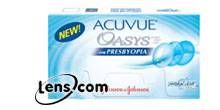 Best Price Guarantee (Up to 70% Off Retail)


Multiple Shipping Options (Next Day, 2nd Day, International)


Selling Contact Lenses Since 1995

Product Description
Your eyes can feel dry and tired in challenging environments, inside or out. The Acuvue Oasys for Presbyopia, featuring next generation HYDRACLEAR Plus silicone hydrogel technology, help keep your eyes fresh and comfortable.

Review
" I've been wearing these for about a month. I love them. I can see my computer, up close and far away without having to think of reading glasses or bifocal glasses. Moist, comfortable and provide very clear vision. What more can you ask for? "