***Proclear Multifocal Contacts***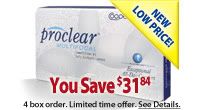 Best Price Guarantee (Up to 70% Off Retail)


Multiple Shipping Options (Next Day, 2nd Day, International)


Selling Contact Lenses Since 1995

Product Description
Proclear Multifocal is the only contact lens designed to address two common conditions experienced by those with aging eyes: presbyopia and eye dryness. Proclear Multifocal lenses combine a superior lens design, Balanced Progressive Technology, with a unique lens material made using our patented PC Technology. Proclear Multifocal lenses focus light from both near and far distances to the back of the eye, creating the clearest possible image. This unique system uses two different, yet complementary, lenses that work together to provide clear vision near, far, and in between.

Review
" I have had the sample pair for one day and I love how clear I can see in every direction without adjusting my head! I can't even feel them in my eyes. They are so confortable! I have the 40+ eyes and am far sighted in my left eye. With the other multifocal brand I was always adding 'Blink' or 'Artificial Tears' because eyes felt dry and irritated. I could hardly wait to take them out at the end of the day! With CooperVision multifocal contact lenses I don't feel the need to constantly add moisture. I don't blink as much either. I love them! "