***1-Day Acuvue Contacts***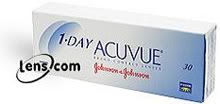 Best Price Guarantee (Up to 70% Off Retail)


Multiple Shipping Options (Next Day, 2nd Day, International)


Selling Contact Lenses Since 1995

Product Description
1-Day Acuvue allows you to start every day with a fresh, clean pair of contact lenses. It is the perfect way to ensure that deposits never have a chance to build up and irritate your eyes. These lenses are tinted for ease of handling and will not change the color of your eye. The tint is simply designed to facilitate locating the contact lenses in solution. They also contain an inside-out "123" indicator to help ensure proper application/insertion.

Review
" I like my One Day Acuvue contact lenses very much. I don't know what I would do with out them. I have worn the Daily Disposable Johnson & Johnson Acuvue One Day contacts for 4+ years. They feel great even at the end of the day unlike other daily disposable lenses. Also Lens.com has One Day Acuvue for the lowest price out there. Thank You. "