Find a great selection of University of Alabama Crimson Tide Gameday & Tailgate Merchandise at The Capstone. You will find a nice selection of Alabama Crimson Tide Coolers, Chairs, Tents, Stadium Seats, Car Flags and more.
Click on the logo image below to visit The Capstone.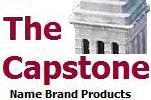 Just a few of the many items inside The Capstone.
Alabama Crimson Tide Gameday & Tailgate Merchandise