Come join us here at The Capstone where you will find a collection of all things Alabama. From T-shirts, Hooded Sweatshirts, Hats, Jerseys, Jackets, Banners, Clocks to a Fireplace Screen. You will find it here at The Capstone. Come celebrate the Crimson Tide's 13th Football National Championship with official BCS National Championship gear.
Click on the logo to visit The Capstone.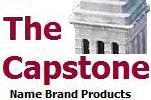 Your source for Alabama Crimson Tide Apparel, Merchandise and Clothing. The Capstone is the Alabama Crimson Tide Store where fans and alumni shop the latest Alabama National Champs Gear.
Click on the logo above to visit The Capstone.
The Capstone