Have you ever driven a car or truck when you could barely keep your eyes open?
You try to open the window to get the fresh air to wake up but that doesn't work for long, and you nod off, again and again. The Driver Alarm device can wake you up, save your life, the lives of your passengers, and others on the road (not to mention the expense of medical care and vehicle repair).
Late night trucker? Going on a vacation? If you're driving and prone to dozing off, you need this driver alarm.
You place the alarm over your ear and it sounds it's alarm right next to your ear if your head bobs below a certain angle. Similar to a mercury switch. If you doze off, a loud alarm will wake you and your passengers.
Everyone has experienced drowsiness while driving. Some of us have actually fallen asleep only to be awakened by the blaring horn of an oncoming car.
Avoid this potential tragedy by wearing the Driver Alarm on your ear. If your head should nod, an alarm will go off, waking you and any sleeping passengers in the vehicle. All sleepy drivers should use this protection device.
Uses one 6 volt alkaline battery (included).
Standard shipping is FREE for all retail orders totaling $100.00 or more! (48 Continental US orders only) Flat rate of $8.50 shipping applies to orders under $100.00.
The Driver Alarm keeps drowsy drivers from falling asleep. This simple device attaches to your ear and sounds an alarm if your head should nod. Keeps sleepy drivers awake!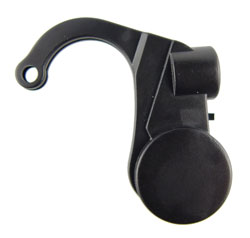 $8.95 each