BEWARE !! Not a Toy!
BUILD YOUR OWN HOG HUNTING LED LIGHT SYSTEM
that goes on at DUSK ... OFF at Dawn

The "LED Hog Hunting Light" ALTERNATIVE RESOURCE FEEDER LIGHTING SYSTEM DIY PLANS & OUTLINES – Get this Hog Light HOW TO - and BUILD YOUR OWN HOG Hunting Light System from parts you can get locally, or might even have around the house or barn. HuntSports will offer you a wider array of alternatives than anywhere on the internet!
Get Your Own HOW TO GUIDELINES AND Information on a PDF File Download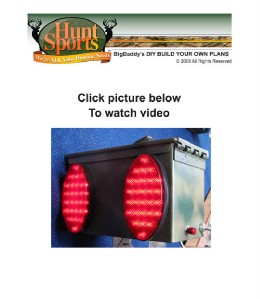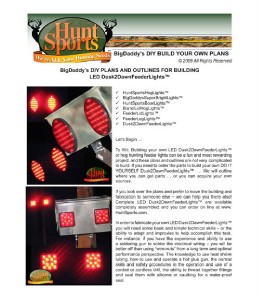 GREAT Wild Hog & Boar Night Hunting
LED Feeder Light DIY Plan Kit
More Fun Than You Can Imagine! Hunting Wild Boars and Hogs at night - NO NIGHT VISION NEEDED!! You can sit in your deer blind or stand, shooting tower or portable shooting house and have a field day! Try out your AR15 or AK 47.. help out your local farmers and ranchers - take home some bacon!.. some hams ... GREAT FOR GRILLIN!! So if you hunt Hogs and Boars in Texas, Oklahoma, Tennessee, Louisianna, or elsewhere these HuntSports FEEDER LIGHTS for Wild Hog Hunting are the lights for you and your hunting buddies. We also sell the famous Hawglite for your bow hunting pleasure .. and the spectacular FeedLite from Ultramatic Feeders. Wnat to have some off-season hunting fun, while filling your freezer with some good pork ... then look at Our Lights!
BigDaddy says - IF YOU HAVE NEVER HUNTED THE ELUSIVE WILD BOAR .. then you know not what you are missing! .. With our Hog Hunting Lighting Systems, you can sit in the comfort of your deer stand overlooking your deer feeder .. and "hammer the hogs" all night long! We also have "remote controls" that will allow you to feed anytime you want ... DO IT YOURSELF and Build-Your-Own Stand and Blind Plans if you need one of those .. got questions , please email BigDaddy@HuntSports.com
Deer Hunting Stands, Blinds, Box Blynds, Shooting Towers, DIY Build Your Own Kits, whitetail Deer Feeder Parts , complete deer feeders, automatic deerfeeders, protein, free choice, gravity flow wildlife feeders, oem repair and parts for homemade feeders, DIY deer feeder plans, outlines, DIY Kits, Build Your own Feeders, Blinds, Hog Hunting Lights, Portable tower stands and a whole lot more. Deer Wildlife, Fish and Big Game Feeders, feeder parts such as digital and analog timers, photo cell timer control units, photocell timers, and a wide array of feeder parts for the hobbists and do-it-yourselfer wanting to build a home made deer feeder, hanging deer feeder or other style deer feeders. Deer Hunting Accessories like Digital Infrared deer Scouting Cameras and DeerCams from Bushnell, Cuddeback, Leaf River, Moultrie, Predator, Recon, Reconyx, Smartscouter, Spypoint, Stealth Cam and Wildview. There are models of Trail and Scouting Cams for Action Video, Food Plot Models, Digital Color Flash, Infrared and No Flash Cameras, all kinds of Memory Cards & Readers, Rechargeable Scouting Cam Battery Systems.

Do You Need FEEDER PARTS? .. Wildlife or Fish Feeders? .. Infrared Deer Scouting Cams? Replacement Units?