Discover How to Build Your Own High-Quality Tiki Bar
Turn your backyard into Party Central with a Custom Built Tiki Bar
" Now you can build a high-quality, custom Tiki bar for a unique, fun, and relaxing party atmosphere right in your own back yard! I guarantee it! "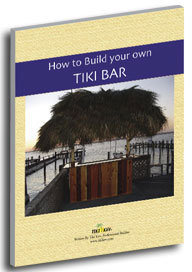 This Guide includes:
Step-by-Step guide provides all information needed to build your 4'x8' tiki bar
85 illustrations and annotated photographs provide more details that you'll need
Proven design with hundreds of satisfied owners
Materials used willlas a lifetime (using the special care instructions provided)
Numberous sources for obtaining all materials is provided
Can be built with commonly available tools - no special tools are required
You'll Find It's Now Possible For Any Do-It-Yourself person To Build A Custom Tiki Bar....
Get Your Copy of How to Build Your Own Tiki Bar Today
...