ONE (1) COMPLETE
FEEDER UNIT
BRAND NEW
Deer, Turkey, Wildlife or Fish
4 YEAR Factory WARRANTY
NEW Model # HSTH270Q with Analog Quartz Timer Control

Ships UPS - NO FREIGHT TRUCK COSTS

No Worry - Simple and EZ Set Up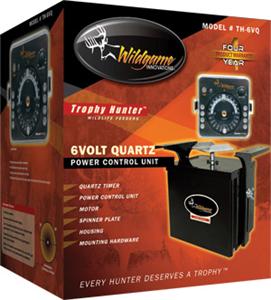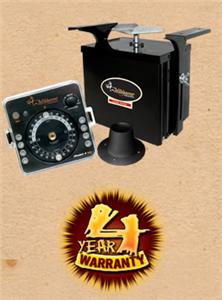 300# Hopper Capacity ( corn )
6 Volt Quartz Power Control Unit
Quartz electronics - 10 available feed times per day
1 to 20 second - adjustable feed times per feeding
Entire front of unit is protected by a clear plastic cover
Easy to adjust duration control knob
Large, easy to read custom clock face
Large, custom-molded clock-trip pins (10 included)
Circuit board is fully-enclosed in a weather-resistant housing
Battery, Solar Charger Panel, Remote Control Available ( Not Included )
Durable Polypropylene Design
Built-In Funnel Reduces Feed Waste
Proprietary Dome-Style Lid Design
Easy to Assemble Three Piece Design
Heavy-duty 12-piece powder coated leg kit
Photos Showing Same Basic Model with PhotoCell and Digital Timers seperate photos show Quartz Timer With NEW MODELS


Wanting ? Needing ? More than one? NEED
OTHER FEEDER REPAIR PARTS?
we got'em at HuntSports - we're all your Wildlife, Deer and Fish Feeder Needs !
We Also Offer This Model with a DIGITAL TIMER and have a few left with Dawn Dusk PhotoCell TIMERS ... everything else is the same ..
Google Keyword HuntSports
We Also Offer deer scouting cameras, The Deer Blynd, Deer Blinds, Stands, Towers, Shooting Houses, This Model with a DIGITAL TIMER and an
ANALOG QUARTZ TIMER set up ... everything else is the same ..
Google Keyword HuntSports

Let US KNOW how we can help you ? Just Drop Me an email and I'll try to
get you a good BUY on whatever your hunting needs?
BigDaddy@HuntSports.com

DEER / WILDLIFE / FISH FEEDERS - Deer Feeder / Deer Feeders , Whitetail Deer Feeders ,
Automatic Deer Feeders, Deer Feeder Parts, Protein Deer Feeders, Wildlife Feeders, Hanging Feeders,
Tri-Pod Feeders, Protein Feeders, Free Choice Feeders, Fish Feeders, Dock Feeders, Pond Feeders,
Lake Feeders, ATV / UTV Road Feeders, ATV Road Feeder Spreaders, Tailgate Feeders, Tailgate Feeder
Spreaders, Deer Feeders For Sale, Protein Feeders For Deer , Game Feeder, Deer Hunting Feeders,
Whitetail Deer Hunting Feeders, Wildkife Hunting Feeders, Turkey Feeders, Turkey Hunting Feeders,
Automatic Fish Feeders, Quail Hunting Feeders, B&C Buck Hunting Feeders, Deer Stand Feeders,
Deer Blind Feeders, Digital Timer Feeders, Quartz Timer Feeders, Bass Fishing Dock Feeders, Boat
Dock Directional Feeders, Ground Bird Feeders, Gravity Flow Feeders, MAJOR FEEDER BRANDS – American Hunter, FeederMax, WildGame Innovations, Remington,
Trophy Hunter, Diamond, All Seasons, Ultramatic, BossBuck, Atascosa Wildlife, BigHorn Metals,
OutBack Wildlife Supply, Texas Hunter Products, LamCo, SpinTech, and MORE!!