DIRECTIONAL THROW / DOCK FISH FEEDER
Aqua-Pro ADF-150DX
BigDaddy says: If you have questions? Need Help? Call me at (719) 531-0961 we have every kind you can imagine available .. hanging fish feeder with small capacity and big features - or the larger capacity fish feeder and dock feeders like the ADF-75D, ADF-200D, ADF-150DX ... if you're looking for a larger unit, dock model or tripod model please visit www.HuntSports.com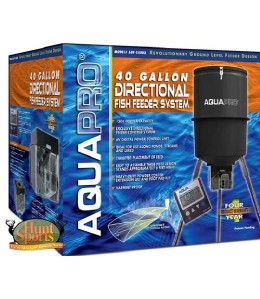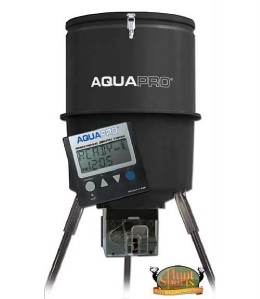 40 Gallon Capacity | Digital Directional Throw | Durable Poly Barrel Fish Feeder | BRAND
NEW 2011 Models from AquaPro - this Model 150DX has 150 pounds of fish feed capacity | Direct Throw Casting Range up to 50 feet | up to 8 feedings per day | 6V digital | Remington power control unit for "targeted placement of feed" - clear line of sight.
Heavy-duty powder coated extention leg and foot pad kit

Easy to assemble three piece design

stands approximately 6 feet high.

Easy to fill (no more ladders)

Power Supply - 6V, Electronics

Digital Timer - 8 Daily Feed Times

Feed Time Durations from 1-90 seconds long

Pellet size - .25" or smaller recommended

Floating pellet feed capacity - 150 lbs.

Sinking pellet feed capacity - 200 lbs.

Shelled Corn capacity - 300 lbs.