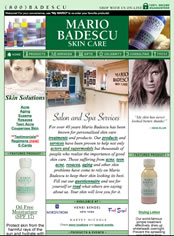 Treat acne quickly with Mario Badescu skin care - Click here
Mario Badescu Acne Repair Kit contains everything you need to keep oily and acne prone skin looking clean, clear and healthy. Using the world famous Mario Badescu Drying Lotion you can clear up whiteheads overnight! Then keep your complexion clear with Mario Badescu Drying Cream and Buffering Lotion help to fight acne before it starts.
How does it work? Whiteheads are pores clogged with oil (sebum). These blemishes appear raised on the surface of the skin and seem to have a "white" head. Because the whitehead is already raised above the skin, a powerful topical drying agent, such as the Drying Lotion, is a fast and effective treatment for this kind of blemish. The formulation has drying, disinfecting, and soothing agents that will quickly heal the pimple and minimize chance for re-infection.
Occasionally, areas of your face can also be excessively oily due to over-active sebaceous glands, usually in the forehead and chin area. This over-production of oils causes small pimples to form in the area. These pimples are neither whiteheads nor cystic. Often they appear as little bumps under the skin. The Mario Badescu Drying Cream is a gentle topical drying agent that targets these small bumps. Because these bumps appear due to excessive oil production, the Drying Cream absorbs and disinfects the affected areas without being too abrasive to the delicate skin. Click here to continue.

Prevent and Cure Acne with Mario Badescu Skin Care - Click here