Japanese Bonsai Trees

Japanese Black Pine (pinus thunbergii-'mikawa')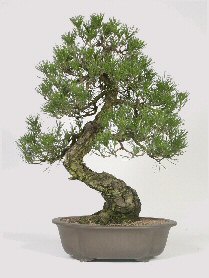 If you are looking for rare Japanese bonsai trees, here's a very old Japanese black pine.

Each branch is covered with densly packed, dark green needles and crowned in winter with large silver white candles.

The candles are as attractive as flowers, and their striking contrast with the foliage is visible over a long distance. Tight, low, mounding habit. Worthy bonsai specimen.

Age: 80 years old

Dimensions: 34" tall

Potted in a ceramic container as shown.

Hardy. Keep outdoors!


---
Check Out this Splendid Japanese Bonsai Tree!
---